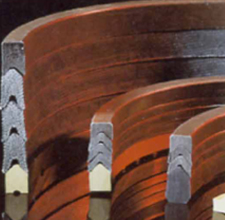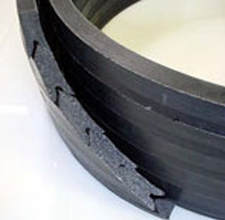 PICARD Technologies® has been commercializing the Sidetex® family, like the Sideseal® family, for over 30 years worldwide. Sidetex® products perform industry's heaviest-duty jobs.
Sidetex® chevron packings are fluid seals used mainly in hydraulic sealing applications.
Sidetex® packings are composed of several V-shaped elements which nest one inside the other.
They are made from technical fabrics coated with different elastomers, depending on the function the packing is to perform.
The fabric, closely combined with the elastomer, enables parts to be molded at high pressure and temperature to obtain the perfect fit. The fabric acts as reinforcement, allowing the packing to withstand very high pressures, outperforming all-elastomer seals, even polyurethane ones.
| | | | | |
| --- | --- | --- | --- | --- |
| | | | | |
| Sidetex® PA | Sidetex® SP | Sidetex® SG | Sidetex® SP1 | Sidetex® UN |
Sidetex® packings come in a range of profiles to suit a variety of applications. Feel free to contact our technical department for advice on the best Sidetex® for your job. Sidetex® packings can be delivered cut to length, for easier assembly or installation.
Sidetex® packings range in diameter from 10 mm up to more than 2300 mm.