Since its inception, PICARD Technologies® has been offering various types of bellows to help clients protect their machines.
Do the bellows need designing for a first assembly or is the design based on existing specifications? Are they to be mounted on an older or on a new machine? Whatever or wherever the application, we will help you choose the right solution.
Below, are the most standard shapes and our range of materials.
The great classic, offering excellent value for money: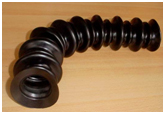 Flexible and hard-wearing black or translucent FDA-approved PVC, for use in environments with no risk of abrasion, cuts and nicks. Good resistance to oil and greases. Service temperature range of -15°C to + 65°C. Available with zips or Velcro®.
Fabric bellows :


Designed to cope with substantial mechanical strain, fabric bellows provide a high level of protection against tears and abrasion and are suitable for high temperature applications. The optimal fabric for the operating conditions is selected, then cut to size and stitched.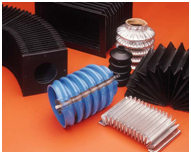 We also construct bellows from materials such as Kevlar®, Nomex® and polyester, depending on the duties the bellows are to perform.
These materials offer exceptional resistance to friction and abrasion and serve in higher temperatures than PVC. Also available silicone-coated or aluminized.



Most of our products can be fitted with snap fasteners, zips or Velcro® to avoid having to dismantle the equipment that needs protecting.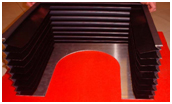 Certain applications require stiffeners, guide frames, rollers or wearing pads.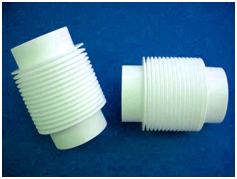 Bellows out of PTFE (Teflon®) can also be machined to measure.
For more stringent applications, we recommend the bellows be molded out of an elastomer specifically selected for the purpose.
We can create a mold and mold your parts at our facilities, and even personalize each part by engraving your logo, brand name or reference codes in the mold. The parts can also be colored to your specifications.